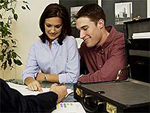 PWC Employees Credit Union is a member-owned, not-for-profit, financial cooperative dedicated to serving our members.

The PWC Employees Credit Union is proud to have served Prince William County government employees and their families for more than forty years. The Credit Union was chartered in 1971 by the Commonwealth of Virginia, and has been serving the employees of Prince William County ever since.
The Credit Union offers savings and loan products, as well as other services, such as direct deposit, online banking, VISA Debit cards and IRA accounts. While we provide many of the same services as larger financial institutions, we also feel we offer a more personalized to helping each member with his or her financial needs. Credit unions aren't organized for the purpose of making a profit. Instead, they reinvest surplus funds to improve the financial well-being of member-owners like you. This is why credit unions are known for their reasonable rates on loans and fair returns on savings. Credit unions also have a special committment to reach out to persons who might otherwise be unable to obtain affordable financial services.

The credit union will continue to offer personalized service, while adding the new services and technological advancements needed to serve our members' financial needs into the future.